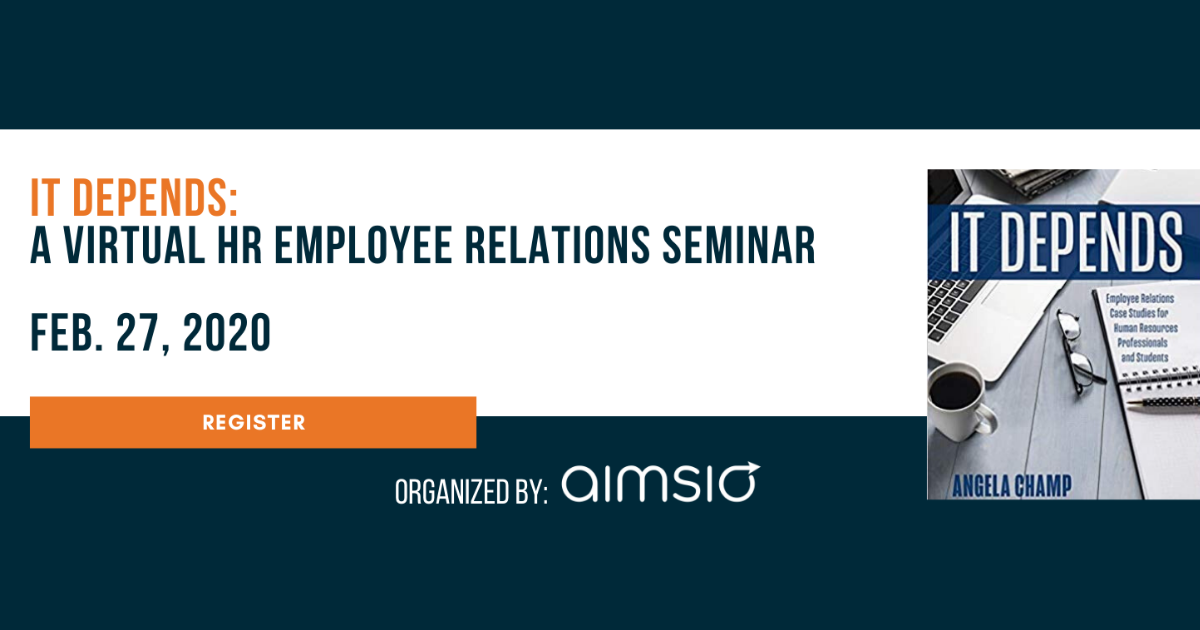 It Depends: A Virtual HR Employee Relations Seminar
Join us to review and discuss employee relations case studies and elevate your employee relations skills
---
Date: Thursday, February 27, 2020
Time: 11:00 am - 12:30 pm PST (12:00 - 1:30 MST)
---
Looking to elevate your employee relations skills? Wondering how to handle common, yet challenging employee issues? Join us on February 27, 2020 to discuss and debate the approach and outcomes of case studies found in "It Depends: Employee Relations Case Studies for Human Resources Professionals and Students" by Angela Champ.
In this virtual HR seminar you will be able to confer with other HR professionals on the courses of actions for some of these case studies, then hear what the author says as she weighs in on the cases from her perspective.
We'll review three case studies from this book: you'll have a chance to work together in small groups to discuss the case study, then we'll regroup and discuss as a larger group. You can do all this from your computer or phone when you join using the Zoom link we'll send once you register (we'll also tell you in advance which case studies we'll focus on so you can prepare).
All you need to do to join is commit to having read the case studies prior to February 27, 2020. The book may be purchased here or borrowed from your local library. Register for the seminar today!
---
To receive the login information for the virtual meeting room, simply complete the form below
Please register by February 14